Don't bite me!
Pyrrolizidine alkaloids (PAs) are phytochemicals and they give plants natural protection against herbivores. There are more than 600 known individual PA substances identified in over 350 plant species and suspected in another 6,000 plant species(1). In particular, the 1,2-unsaturated PAs have a high toxic potential that can damage the liver and cause cancer(2). Therefore, these harmful compounds are undesirable in food and feed. There have been no legal maximum levels for PAs in food, but opinions, such as from the German Federal Institute for Risk Assessment (BfR) and the European Food Safety Authority (EFSA). The BfR found excessive PA levels in dried and frozen spices and herbs. Even honey may be contaminated by PA-containing pollen from wild plants(3). Because of the health risks, exposure to PAs must be minimized.
Our application department has separated 28 pyrrolizidine alkaloids using HPLC and SPE.
A few examplary structures of pyrrolizidine alkaloids: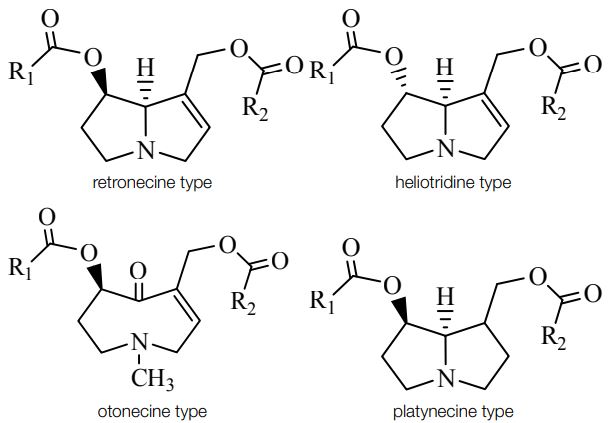 On December 11, 2020, the European Commission published the Regulation (EU) 2020/2040, which set the maximum levels for pyrrolizidine alkaloids. The new values will apply across the EU from July 1, 2022(4).
Potential sources of exposure include not only teas and honey (when bees harvest pollen from PA plants). Since there may also be potential contamination of dietary supplements and herbal medicines with PAs, the Pharmacopoeia Commission is also aware of this issue and adopts a new general chapter "Contaminant pyrrolizidine alkaloids (2.8.26) into the European Pharmacopoeia (Ph. Eur.). The chapter was published in Supplement 10.6 of the European Pharmacopoeia on 1 July 2021 with an implementation date of 1 January 2022(5).
References:
(1) Frequently asked questions on pyrrolizidine alkaloids in foods, Updated BfR FAQ of 17 June 2020
(2) EFSA Panel on Contaminants in the Food Chain (CONTAM), Scientific Opinion on Pyrrolizidine alkaloids in food and feed, November 2011
(3) Updated risk assessment on levels of 1,2-unsaturated pyrrolizidine alkaloids (PAs) in foods, BfR Opinion 026/2020 issued 17 June 2020
(4) European Commission - Regulation (EU) 2020/2040, 11 December 2020
(5) Council of Europe portal, News 05.January 2021 (EDQM)