At a time when COVID is the all-dominant topic, many other societal issues have taken a bit of a back seat in the public consciousness and in the media. One of these is drug abuse and the rising number of drug related deaths in the western economies. From 1999 to the present, 500,000 people have died from opioid overdoses in the United States. In the corona year 2020 alone, drug deaths increased by 13%(1). Responsible for the high death rate to a significant extent is the use of the synthetic opioid fentanyl(2).

Fentanyl = N-(1-phenylethyl-4-propionanilide)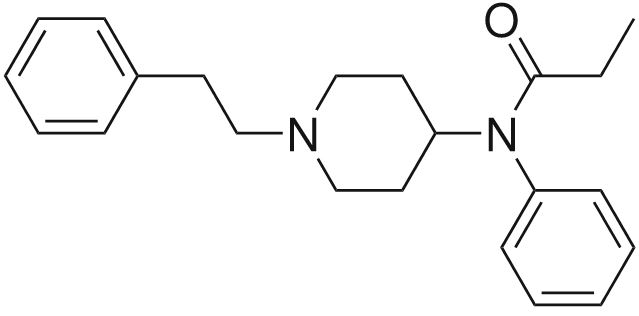 Fentanyl, which has a sedating effect, is administered as a strong painkiller, especially to terminal cancer patients. The analgesic effect is about 100 times stronger than morphine and 50 times stronger than heroin(3). In order to save costs and at the same time maximize the effect, fentanyl is often cut with heroin. Since it has a very strong effect even in minimal concentrations, overdoses with a lethal outcome are not uncommon.
Even in medical settings, use of the high-dose analgesic requires expert supervision and should never be left to self-medication. In 2017, to the dismay of the music community, singer and guitarist Tom Petty died of an accidental overdose; caused by various chronic pain medications including fentanyl(4).
The following LC/MS analysis shows the separation of various drugs including fentanyl on a MACHEREY-NAGEL NUCLEOSHELL Bluebird RP 18 HPLC column. The stationary phase is a polar endcapped C18 core-shell silica of 2.7 micron particle size(5).
References:
(1) https://de.statista.com
(2) https://www.tagesschau.de/ausland/opioid-krise-usa-101.html, 19.05.2021
(3) "Commission on Narcotic Drugs takes decisive step to help prevent deadly fentanyl overdoses". Commission on Narcotic Drugs, United Nations Office on Drugs and Crime. 16 March 2017. Archived from the original on 20 March 2017. Retrieved 19 March 2017.
(4) Coscarelli J (2018). "Tom Petty Died From Accidental Drug Overdose Involving Opioids, Coroner Says". The New York Times. ISSN 0362-4331. Archived from the original on 2018-01-20. Retrieved 2018-01-20.
(5) MACHEREY-NAGEL application department, Dueren - Germany (2017)