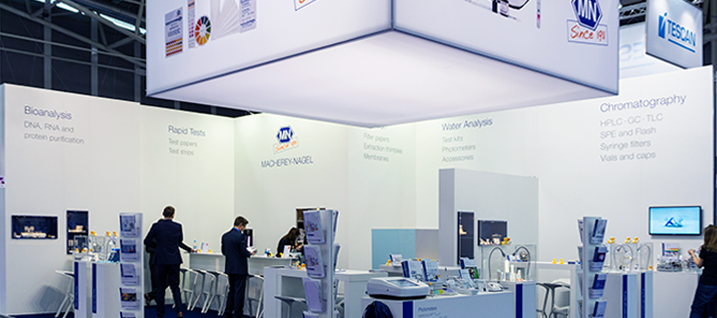 Events and Exhibitions
Take advantage of our numerous trade show appearances and let us introduce you to the latest products and highlights of MACHEREY-NAGEL in person. We are already looking forward to your visit!
Dates
For an overview of upcoming trade shows and events in your area, please select the corresponding country.
China
IE EXPO China 2020
Shanghai New International Expo Centre
21th–23th April 2020
Booth E5A06
Represented by Shanghai Zimex Industrial Co., Ltd.
France
Forum du Labo
EUREXPO LYON
07th October – 08th October 2020
Hall 2.2 - Booth C38
Parc des Expositions EUREXPO LYON
1st December – 4th December 2020
Hall N.A.
Booth N.A.
India
CPHI & PMEC INDIA 2020
India Expo Mart, Noida
25th–27th November 2020
Represented by Inkarp Instruments Pvt. Ltd.
Iran
Milad Tower Congress Center, Tehran
15th April – 18th April 2020
Represented by Bahar Tashkhis Teb Co.
Malaysia
Kuala Lumpur Convention Center
30th November – 2nd December 2020
Booth K401
Represented by CSQ Analytics Sdn. Bhd.
Netherlands
South Korea
ICC JEJU (International Convention Center, JEJU)
19th–21st August 2020
Represented by Interface Co. Ltd.
Switzerland
ILMAC
ILMAC Lausanne
7th October–8th October, 2020
Hall 7
Stand B19318
Represented by MN Schweiz
United States of America
SLAS 2020
International Conference & Exhibition
San Diego, California
25th January – 29th January 2020
Booth 335

McCormick Place
Chicago, Illinois
1st March – 5th March 2020
Booth 1240